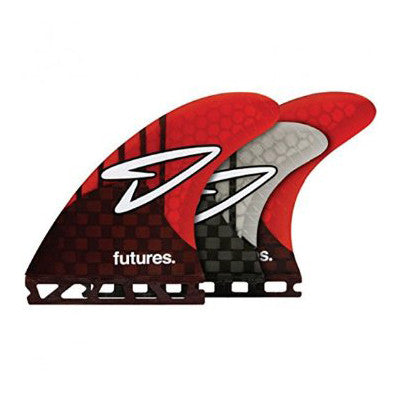 Futures Fins V2 Roberts Generation 5-Fin
Pickup currently unavailable
Add To Cart For 10% Off!
Order Over $75? Add This Moment Tote For Free
Futures Fins V2 Roberts Generation 5-Fin Set
Generation Series: Speed & Spring + Control & Drive
The next level in speed generating fins is here with the all new Generation Series. These fins will provide all the speed you need while maintaining an element of control. Sitting one notch below the Blackstix on Futures's Ride Number scale, all Generation Series fins hold ride numbers between 7 and 9, for those looking for a bit more stability and drive than Blackstix.
Ride Number: Thruster: 8.2 | Quad : 8.5
Size: Large
Side Fins:
Height: 4.56"
Base: 4.50"
Area: 14.69"
Rear Quad Fins:
Height: 3.75"
Base: 4.00"
Area: 11.41"
Construction:
Uni-Fiberglass: To control tip-flex dynamics, Futures has uniquely oriented multiple layers of uni-directional fiberglass. The uni-fiberglass has more spring than normal bi-directional glass and it is woven with strands of poly-fibers that create more strength and control in the fin tip.
Vertical: Uni-directional carbon strips have been placed vertically across the front half of each fin. Acting as spines, this secures the leading edge and forces the tip to flex across less area and become much "snappier'. Additional strength in the right places allow the Generation Series fins to remain lightweight and strong.
Epoxy Resin: To add one more layer of performance to the Generation Series, we use epoxy resin. Epoxy resin is lighter and more resilient than polyester resin. These features all play a role in making the Generation Series a responsive, speed-generating fin, while retaining an element of control.
Bidirectional: Bi-directional 12k carbon panels cover the base on the inside and outside of the fin. This solid base creates drive and leaves the tip free to remain resilient. The combination is lightweight and stable, giving you both speed and power.
V2 Foil:
V2 Foil is a V. Foil and Flat Foil blend. It takes the best speed generating attributes of the V. (at the base) and transitions into a flat foil in the tip for a controlled release in critical turns. Try the V2 foil if you are transitioning from flat sided fins. The benefits of the V. foil base will be noticeable but the change for your muscle memory will not be too drastic.
Free Moment Tote
Get A Free Moment Tote With Any Order Over $75! Use Code TOTE At Checkout
Get The Tote