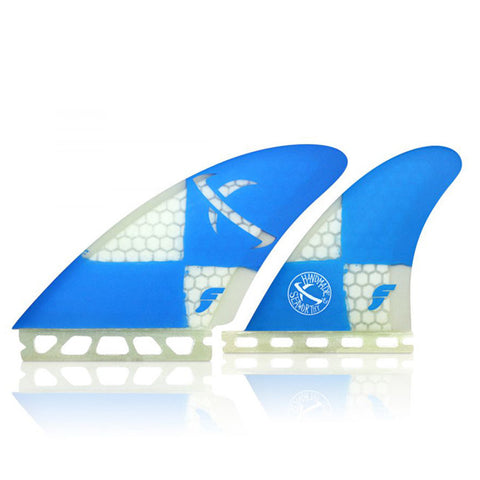 Futures Fins Seaworthy Quad
Pickup currently unavailable
Add To Cart For 10% Off!
Order Over $75? Add This Moment Tote For Free
The T1 Honeycomb is Future's twin-fin design for down the line drive, speed and smooth rail-to-rail feel that iconic twin-fin surfing is known for. The T1 Honeycomb's medium flex pattern offers a slightly softer flex pattern compared to the Fiberglass option, helping to generate additional drive in softer conditions and is equipped with a small trailer for stability through bottom and top turns.
Size:
Small (105lbs - 155lbs) (47kg - 70kg)
Side Fins:
Height: 5.14"
Base: 4.80"
Area: 19.79"
Center Fins:
Height: 3.26"
Base: 3.18"
Area: 7.90"
Construction:
A lightweight hexagonal core gives these fins the feel of glass-ons. Engineered with a medium flex pattern, stiffer than Blackstix but more flexible than Fiberglass.
Flat Foil:
Flat foiled fins break free sooner, and are better at controlling speed. Often surfers prefer them in fast powerful surf where they do not need to create additional speed. If you have muscle memory from riding glass-ons, flat foiled fins will feel the closest.
Free Moment Tote
Get A Free Moment Tote With Any Order Over $75! Use Code TOTE At Checkout
Get The Tote