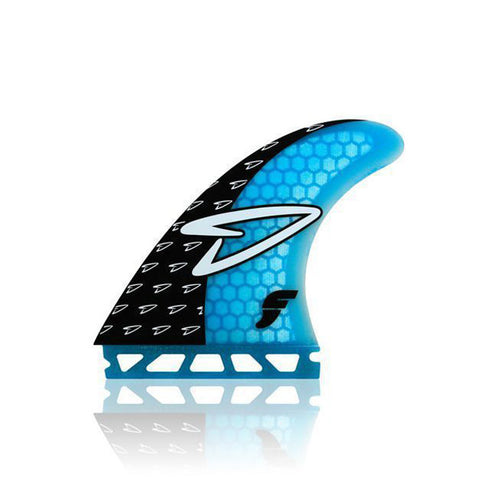 Futures Fins Roberts Honeycomb
Pickup currently unavailable
Add To Cart For 10% Off!
Order Over $75? Add This Moment Tote For Free
The Roberts fin was designed by 2011 Surfing Magazine Shaper of the Year Robert Weiner. This unique fin is comprised of honeycomb material with a V2 offering more stiffness than a blackstick fin, but the benefits of generating speed that come with the V2 foil. The engineering behind this fin combined with more rake and a thinner tip make it ideal for the bigger surfer in high performance point-break conditions.
Size:
Medium (145lbs - 195lbs) (65kg - 88kg)
Side Fins:
Height: 4.77"
Base: 4.64"
Area: 15.70"
Center Fins:
Height: 4.54"
Base: 4.60"
Area: 15.07"
Construction:
A lightweight hexagonal core gives these fins the feel of glass-ons. Engineered with a medium flex pattern, stiffer than Blackstix but more flexible than Fiberglass.
V2 Foil:
A V2 Foil is a V. Foil and Flat Foil blend. It takes the best speed generating attributes of the V. (at the base) and transitions into a flat foil in the tip for a controlled release in critical turns. Try the V2 foil if you are transitioning from flat sided fins. The benefits of the V. foil base will be noticeable but the change for your muscle memory will not be too drastic.
Free Moment Tote
Get A Free Moment Tote With Any Order Over $75! Use Code TOTE At Checkout
Get The Tote