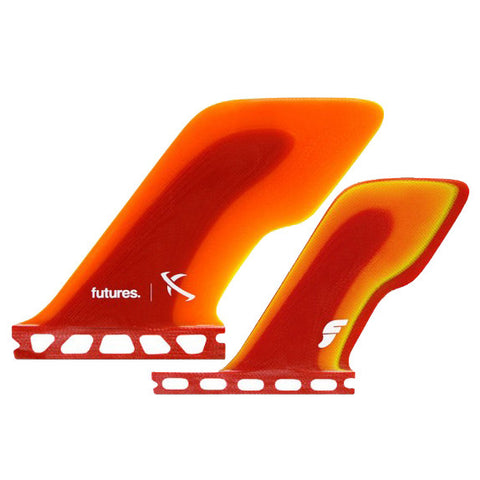 Futures Fins Lost Slingshot Quad
Pickup currently unavailable
Add To Cart For 10% Off!
Order Over $75? Add This Moment Tote For Free
Brand new for 2015, the Futures Fins Lost Slingshot Quad set is a perfect fin set for those small, fat summer boards, that keep you sane during long flat spells. Want to get the most out of that board? Give these a try, designed specifically for that style of wave and board by master shaper Matt Biolos, these fins are a guaranteed fun-addative to your summer!
"Initially inspired by a Dewey Webber giant hatchet single fin longboard that's been hanging on my wall for years. I thought it could make a fun update to the Seaworthy/Controller quads we love so much. With a couple quick draawings and photos of the Webber, I challanged the team at Futures to creat something special. What I got back, after a few swings and tweaks, are like little turbo thrusters. The Slingshots!
A hopelessly fun pairing with low rockered, wide tail, small wave domesticated designs. The narrow and flexy base allows the tip to load up and release, making it fun to bleed off speed into turns. The big tip adds a squirty burst.. a slingshot out of turns. It's fast, free and lively, bringing some fun to frivolous lat day follies." - Matt Biolos
Size:
Large (180lbs and over) (80kg and over)
Front Fins:
Height: 4.89"
Base: 4.53"
Area: 18.81"
Rear Fins:
Height: 4.28"
Base: 3.15"
Area: 11.59"
Construction:
Fiberglass.
Flat Foil:
V2 Sides, 80/20 Rear Fins
Free Moment Tote
Get A Free Moment Tote With Any Order Over $75! Use Code TOTE At Checkout
Get The Tote