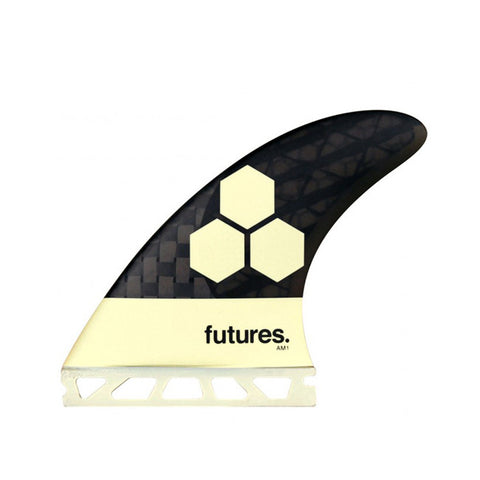 Futures Fins AM1 Blackstix 3.0
Pickup currently unavailable
Add To Cart For 10% Off!
Order Over $75? Add This Moment Tote For Free
The AM1 Blackstix fin was designed by Al Merrick. The Blackstix material and V2 foil give this fin a springy flex pattern, making it ideal for generating speed and drive in softer waves. The AM1 template offers a wider base for drive off of the bottom and a refined tip for release off the top, while the additional rake provides hold through carves.
Size:
Medium (145lbs - 195lbs) (65kg - 88kg)
Side Fins:
Height: 4.50"
Base: 4.50"
Area: 14.84"
Center Fins:
Height: 4.29"
Base: 4.31"
Area: 13.35"
Construction:
Blackstix have a flexible Carbon Fiber tip that loads up and releases energy for generating speed when you need it. These are the lightest fins in the Futures line.
V2 Foil:
V2 Foil is a V. Foil and Flat Foil blend. It takes the best speed generating attributes of the V. (at the base) and transitions into a flat foil in the tip for a controlled release in critical turns. Try the V2 foil if you are transitioning from flat sided fins. The benefits of the V. foil base will be noticeable but the change for your muscle memory will not be too drastic.
Free Moment Tote
Get A Free Moment Tote With Any Order Over $75! Use Code TOTE At Checkout
Get The Tote