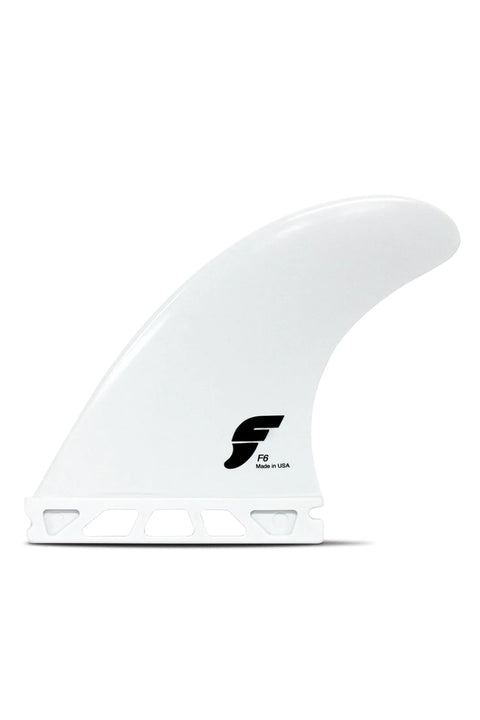 Futures F6 Thermo Tech Thruster Fins - White
Pickup currently unavailable
Add To Cart For 10% Off!
Order Over $75? Add This Moment Tote For Free
Futures Fins classic series is a complete line of classic fin designs, fused with the latest technology. Some of Futures Fins top team riders swear by these fins and work with them constantly to dial-in their templates and foils. The F6 Honeycomb is a scaled up version of our popular F4 template, which is one of the most well-balanced fins in our line. The F6 Honeycomb's medium flex pattern creates the perfect amount of drive and the thinner tip provides for additional release off of the top. A great go-to set for medium sized surfers.
The new F series from Futures contains the F2, F4, F6, and F8. These fins are balanced templates that are designed to work for all surfers in all conditions. The solid base directly transfers power, while the tip is still flexible and resilient allowing it to bend and load up. The White Composite (Thermotech) fins have a consistent flex that hold great on the bottom, and then release through turns. If you're looking for that glass on look, with a higher performance feel than other composites, then you have to try the F series from Futures.
Size:
Medium (145lbs - 195lbs) (65kg - 88kg)
Side Fins:
Height: 4.56"
Base: 4.35"
Area: 15.12"
Center Fins:
Height: 4.56"
Base: 4.35"
Area: 15.12"
Construction:
A lightweight composite plastic which gives a positive flex feedback, and is one of the most user friendly fin constructions out there.
Flat Foil:
Flat foiled fins break free sooner, and are better at controlling speed. Often surfers prefer them in fast powerful surf where they do not need to create additional speed. If you have muscle memory from riding glass-ons, flat foiled fins will feel the closest.
Free Moment Tote
Get A Free Moment Tote With Any Order Over $75! Use Code TOTE At Checkout
Get The Tote