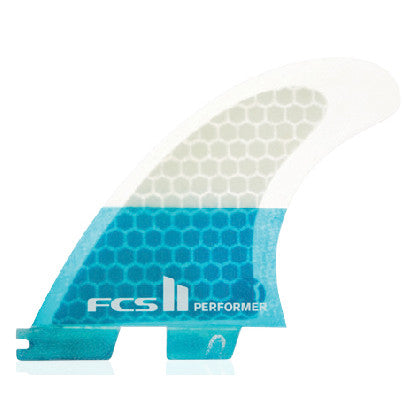 FCS II Performer PC Tri Fin Set - Large
Pickup currently unavailable
Add To Cart For 10% Off!
Order Over $75? Add This Moment Tote For Free
The original go-to FCS II Template, the Performer does exactly what it's name implies; performs. In any type of wave, and any condition, you can put a sure bet on this fin doing it's job and making your life a bit easier in the process.
OVERVIEW
• Reliable all-round fin for a diverse range of surfers, conditions and board types.
• Well proportioned template with Inside Foil Technology (IFT) delivering a balance of drive, pivot and hold.
• Designed for surfers wanting a combination of speed and maneuverability with flow between turns.
IDEAL CONDITIONS
A wide range of conditions from beach breaks to point breaks.
BOARD TYPES
Recommended for all board types.
Please Note: this fin is designed to be used exclusively with the FCS II Fin System, and will not fit in the traditional FCS Dual Plug System
FIN SPECS: Large
Base: 4.48" / 114mm
Depth: 4.67" / 118mm
Area: 15.58"² / 10054mm²
Sweep: 33.7º
Foil: Inside
FIN MATERIAL
PERFORMANCE CORE
FIN SIZE
LARGE (75 - 90Kg / 165 - 200 Lbs)
Free Moment Tote
Get A Free Moment Tote With Any Order Over $75! Use Code TOTE At Checkout
Get The Tote