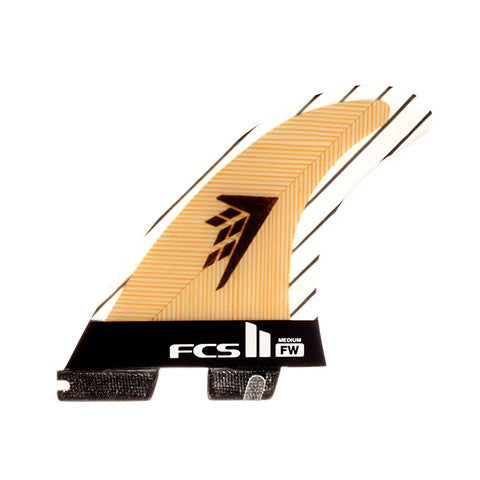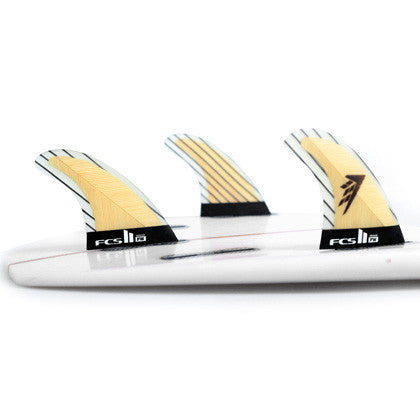 FCS II Firewire PC Carbon Tri Fin Set - Medium
Pickup currently unavailable
Add To Cart For 10% Off!
Order Over $75? Add This Moment Tote For Free
A perfect collaboration between Firewire and FCS, the FCS II Firewire PC Carbon Tri Fin Set is a amazing blend of enough hold yet ample release!
OVERVIEW
Designed by Nev Hyman, the Firewire template sits deep in the water and has minimal sweep, meaning it has great pivoting capabilities yet will hold nicely through turns. The smaller centre fin provides additional tail release.
IDEAL CONDITIONS
A wide range of conditions, particularly good in critical overhead waves.
BOARD TYPES
Performance shortboards and hybrid models with the FCS II Fin System.
*Please Note: this fin is designed to be used exclusively with the FCS II Fin System, and will not fit in the traditional FCS Dual Plug System.
FIN SPECS
SIDE:
Base: 4.37" / 113mm
Depth: 4.89" / 124mm
Area: 15.78"² / 10180mm²
Sweep: 32.1°
Foil: Flat

CENTRE:
Base: 4.38" / 111mm
Depth: 4.57" / 116mm
Area: 14.91"² / 9622 mm²
Sweep: 34.7°
Foil: 50/50
FIN MATERIAL
PERFORMANCE CORE CARBON
FIN SIZE
MEDIUM (65 - 80Kg / 145 - 175 Lbs)
Free Moment Tote
Get A Free Moment Tote With Any Order Over $75! Use Code TOTE At Checkout
Get The Tote