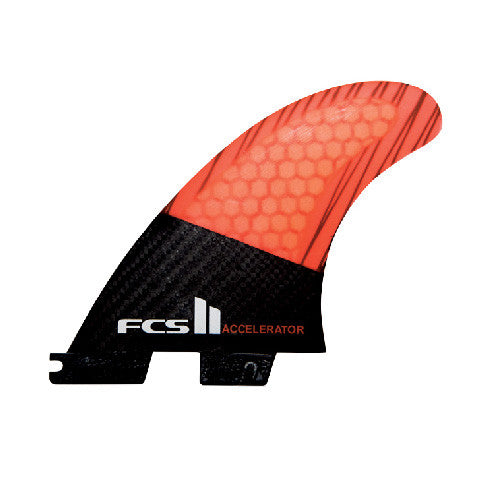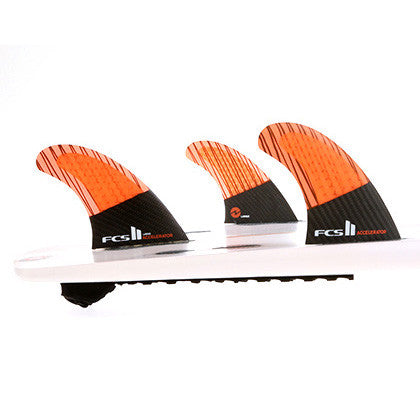 FCS II Accelerator PC Carbon Tri Fin Set - Large
Pickup currently unavailable
Add To Cart For 10% Off!
Order Over $75? Add This Moment Tote For Free
The FCS Accelerator is an oversized (for it's size) all around fin for a good number of wave types. With a flat inner foil, and a functional moderate template, this fin allows you to attack the wave in critical sections. The added carbon on this fin allows it to be even more effective and responsive in critical waves.
OVERVIEW
• Oversized, all-round fin for a diverse range of surfers.
• Functional template with flat foil on the side fins delivering fast, controlled directional changes.
• Designed for surfers who like to attack the wave and surf with energy and power on critical parts of the wave.
IDEAL CONDITIONS
A wide range of conditions, particularly good in critical overhead waves.
BOARD TYPES
Recommended for all board types.
Please Note: this fin is designed to be used exclusively with the FCS II Fin System, and will not fit in the traditional FCS Dual Plug System.
FIN SPECS: LARGE
Base: 4.50" / 114mm
Depth: 4.70" / 119mm
Area: 16.06"² / 10360mm²
Sweep: 33.7º
Foil: Flat
FIN MATERIAL
PERFORMANCE CORE CARBON
FIN SIZE
LARGE (75 - 90Kg / 165 - 200 Lbs)
Free Moment Tote
Get A Free Moment Tote With Any Order Over $75! Use Code TOTE At Checkout
Get The Tote