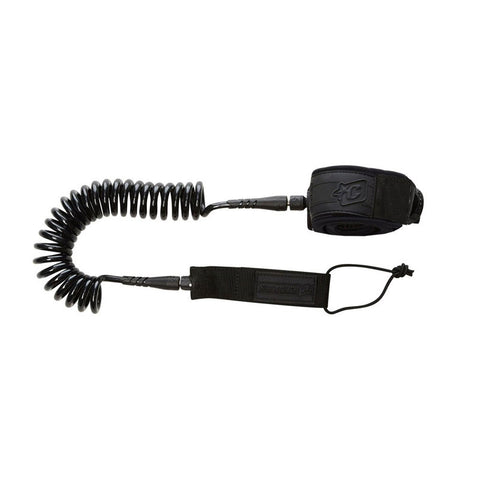 Creatures of Leisure SUP Coiled 10 Knee Leash - Black / Black
Pickup currently unavailable
SUP's are fun, but not to lose in the surf! Keep that beast attached with the Creatures of Leisure SUP Coiled 10 Ankle Leash without getting in your way! Perfect for flat water or the surf!
SUREFIRE LEASH RELEASE - Injection Moulded Urethane Surefire Release Tag with moulded holes – Holes ALLOW water flow & reduce the weight of the cuff
DNA FLEX MOULD [patented technology] - The cord/mould connection that absorbs wave impact, stretching with the leash to resist breakage. Leash & mould stretch up to 5 x original length
NON-SLIP CUFF [patent
pending] -
Using specifically designed neo-mesh material, that prevents the cuff from rotating on the ankle. Super comfortable with a lighter & thinner cuff construction.
LEASH LOCK
-
Advanced hook-&-weave design is softer, lighter & 50% stronger hold than traditional velcro.
STAINLESS STEEL BEARING SWIVEL
-
An unbreakable, self-lubricating swivel that produces continuous friction-free motion, eliminating leash tangles.
ULTRA TOUGH - Lightweight ultra tough cord. Thickness is 5/16" (8mm)

2 YEAR WARRANTY - CREATURE'S DNA leashes are so dependable and resistant to breakage that they come with a 2-year warranty!
LEASH LENGTH: 10' x 5/16" / 3m x 8mm
CUFF WIDTH: 2" / 50mm
RAILSAVER WIDTH: 1.5" / 38mm